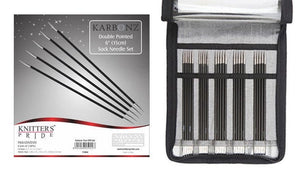 Knitter's Pride
Knitter's Pride Karbonz DPN Sock Set
Regular price
$89.00
$0.00
Unit price
per
Knitter's Pride crafts lovely, warm to the touch, needles. 
Great for traditional sock knitters who love their dpns! And with the added bonus of combining warmth that you'd get from a wood needle with the strength and sharpness of the Karbonz combo.
This set includes 6 sets of 5 double-pointed needles (dpns): US sizes 0, 1, 1.5, 2, 2.5, & 3. They are 6" in length. The Karbonz needles "combine the premium quality of carbon fiber with perfectly shaped electroplated brass tips!!" Carbon fiber is "ideal for knitting needles on account of it's high tensile strength, light weight and comes with a surface that offers excellent control over the stitches." The union of the two materials provides "an unparalleled knitting experience."
Made in India.
Note from Knitter's Pride: "Your purchase of our ginger needle sets helps bring a smile (and a job!) to 350+ female artisans in our factory in Rajasthan, India, an area with more than 2,000 years of arts and crafts history. We're also proud to share that our policy is to never refuse a job (or a smile!) to a woman looking for work. After all, we believe that -- through knitting -- we can make the world a better place."
---
Share this Product
---