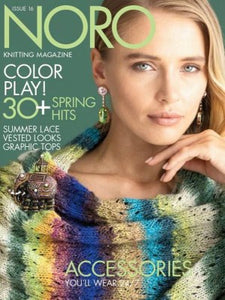 Noro
Noro Magazine Issue 16, Spring 2020
Regular price
$5.99
Sale price
$9.99
Unit price
per
Noro magazine is always chock full of a diverse selection of patterns.
Issue 16 includes 31 patterns for both knit and crochet accessories, blankets, and garments. Preview all 31 patterns on Ravelry here. Patterns highlight the following Noro yarns: Geshi, Silk Garden Lite, Akari, Kumo, Sonata, Taiyo, Mirai, Tabi, and Tsubame. The majority of these yarns are dk or aran weight yarns and can therefore be substituted with Geshi or either Silk Garden Sock and Sock Solo (for dk) or Silk Garden and Solo, Ito, Kureyon, or Taiyo for aran.
THIS IS A MAGAZINE, not one of the hardback books.
Find overview/sneakpeak of patterns in this magazine on Ravelry
here.
This magazine is being sold at 40% off.
---
Share this Product
---