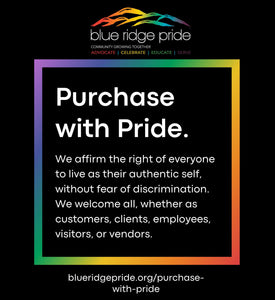 Purchase with Pride 2023
Purl's is proud to be a Purchase with Pride partner of this year's BlueRidge Pride festival (taking place Sept. 30). We hang our Pride flag all year round so folks know they are truly welcome. During Pride week, Sept. 24-30, if you purchase one of our Pride Transitions cowl kits, 25% of your purchase will be donated to BlueRidge Pride. People can purchase the cowl kits in our store during store hours (Wednesday - Sunday 10am-6pm) or in our online store anytime. Just make sure your purchase falls between Sunday, Sept. 24 and Sunday, Oct. 1 in order to insure the contribution to BlueRidge Pride! Patterns for the cowls are also available for free on Ravelry. The knitted cable cowl kits include designs/color combos celebrating the Trans, Asexual, Bisexual, Gender Fluid, Gender Queen, Nonbinary, and Pansexual Pride flags. We hope to include more Pride flag designs in the futures.
Transitions Cowl Kits
Purl's Yarn Emporium
Purl's is a local yarn store in Asheville, NC, located at 830 Hendersonville Road (previously located downtown for more than a decade).
Come visit us, call, email, or use this online store to get your fiber needs met. Online orders will be filled during and prepped for shipping or pickup during business hours. Local pickup available from the store on Hendersonville Road. Shipping is otherwise Flat Rate to the US and Canada.
Please call, text, or email us if there is something you are looking for that you are not finding listed online: 828-253-2750. If you make an online order please email us asap if you would like your yarn wound before shipping.
A friendly home-away-from-home, Purl's yarns have stories: local farmers, indie dyers, fair trade products and cool yarns from the USA and around the world.
Whether you're stitching for your grandkids, your roller-derby team, or your favorite Time Lord, Purl's welcomes you!
Besides searching the collections, you can also search in the top left window by yarn weight, name, etc.