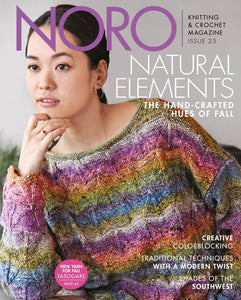 Noro
Noro Magazine Issue 23 - FALL/Winter 2023-24
Regular price
$9.99
$9.99
Unit price
per
Hand Crafted Hues of Fall/winter with 28 pattern designs, including sweaters, vests, accessories, blankets, and pillow covers. The 23rd issue features designs in Noro Rikka, Noro Madara, Noro Silk Garden Sock, Noro Haunui Cotton, Noro Tasogare, Noro Ito, Noro Kashirukuru, Noro Silk Garden Sock Solo, Noro Tsuido, Noro Malvinas, Noro Kureyon, Noro Silk Garden, Noro Silk Garden Lite, Noro Viola, Noro Haunui Silk, and Noro Silk Garden Solo.

Noro magazine is always chock full of a diverse selection of patterns. 
Preview patterns from this issue on Ravelry here.
---
Share this Product
---